News — Thank you Guildford for your amazing support!
Our Keep Guildford Warm Clothes Bank finally closed its doors after nearly three months of community support on Wednesday 22nd February and we can't thank enough all those who supported us with their generosity and kindness!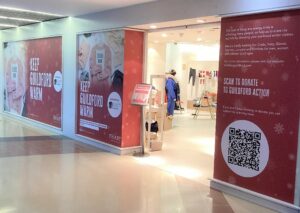 During these incredible three months, many visitors made special trips to the shopping centre to drop off donations of pre-loved winter clothing to help. Visitors came from across the southeast region including; Portsmouth, Southampton, Reading, Crawley and Worthing. Shoppers at The Friary were incredibly generous, raising over £1,175 through online and cash donations to directly support the work of our charity partner Guildford Action.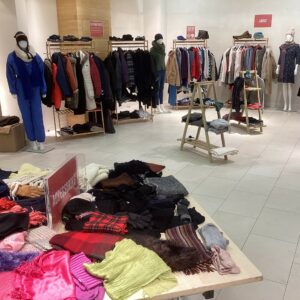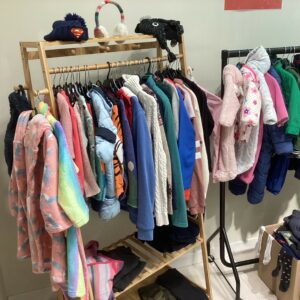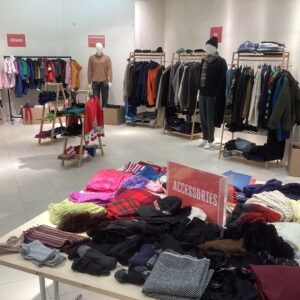 With the community's support, we were able to extend the initiative and donate more than 8,500 items of preloved clothing to keep Guildford warm this winter. The staff and management team at The Friary also contributed more than 100 hours to keep the Clothes Bank running and give back their time to help support the local community.
All remaining items in the clothes bank upon closing have now been donated to Guildford Action and will be distributed to the local homeless, vulnerable and struggling families from across the Guildford area. So not to worry, your leftover donations are certainly not going to waste!
The Friary and its staff are immensely proud to have been able to bring this worthwhile project to the people of Guildford. The kindness demonstrated to support those in the community who have struggled this winter has helped make a real difference during such a difficult economic time and with the ever-increasing cost of energy bills.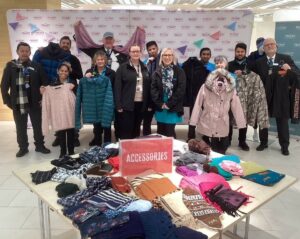 Joanne Tester, CEO of Guildford Action said, "Keep Guildford Warm has been the most amazing initiative. The Clothes Bank met such a basic need with warmth, compassion and kindness. The shop was set up in such a way that everyone was welcomed and it looked so inviting and professional.
"They brought together the whole community from the recipients to those who donated. It has been a classic case of the community helping the community. At Guildford Action, are so proud that they chose us to be a part of this heart-warming community project.
"The staff at The Friary Guildford were so passionate about this from day one. They went above and beyond and I cannot thank them enough for all their kind efforts to make it such a huge success for our local community and for showing they really care."
Vicky Hickson, Centre Manager of The Friary Guildford said, "We are delighted and proud of the results that the Keep Guildford Warm project has delivered for our local community. We have experienced first-hand the real impact that it has made on those living within our community who have struggled this winter due to the cost-of-living crisis and increasing energy bills.
"Our staff who have given up time to run the Clothes Bank have been touched by the feedback they have received over the past few months from those who have used this service and also from general members of the public.
"Being able to work in partnership with Guildford Action and to support those in our community who are vulnerable has been truly heart-warming. We would therefore like to thank all those who have supported this worthwhile project, especially those who have taken time to donate clothing to help keep Guildford warm this winter."
A huge thank you to our amazing local community who helped those in need this winter by supporting this initiative either with clothing or monetary donations. We look forward to bringing this campaign back in partnership with Guildford Action and continuing to Keep Guildford Warm.