News — Mental Health Awareness Week 2022
Mental Health Awareness Week takes place from 9th – 15th May 2022, and this year's theme is loneliness.
Loneliness has affected more people than ever before over the past few years, so we're aiming help raise awareness and take positive steps to address it. 💚
Chatter Tables
From Monday 9th May, we're launching our brand new Chatter Tables initiative. A Chatter Table at The Friary Guildford is where customers can sit if they are happy to talk to other customers.
Who can join in?
Anyone… if you're on your own, in a couple, with a friend, if you're a carer – why not sit there with who you care for, mums and babies, dads and babies, grandparents and babaies, young people, older people, and anyone in between.
How do you use a Chatter Table?
When you are deciding on where to sit, look for the 'Chatter Table sticker located on the table and sit there! Stay for five minutes while you have your food or drink, or longer! It's not just about making friends but also about good old fashioned human interaction!
Look out for this sticker in the food court…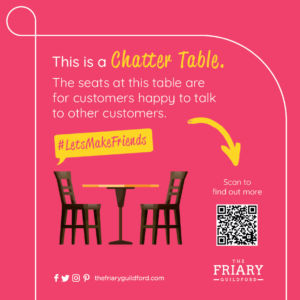 Buddy Bench Donation
Loneliness can affect people of all ages, including children. The school playground can be a lonely place for a child if they haven't got a friend to play with. Which is why The Friary Guildford is donating two "Buddy Benches" to local primary schools, Holy Trinity Pewley Down Primary School and St Nicholas Primary School in Guildford.
The idea is simple – if a child feels lonely, they can go to the bench as a signal that they need someone to play with. Another child will see them, go and talk to them and include them in their games.
We're excited to hear about how these benches can make a positive impact on tackling loneliness.
Reconnections at The Friary Guildford (9th – 13th May)
From Monday 9th – Friday 13th May 2022 – Come along to The Friary Guildford to meet the Reconnections by Independent Age team.
With the help of friendly local volunteers, Reconnections provide companionship, encouragement and ideas to help the over 65's rediscover old interests and make new friends.
You can find them located on Level 2 at The Friary Guildford, between Urban Outfitters and Next. They'll be on hand to talk to customers who might find the services beneficial. So why not pop in for a chat!
Click here to find out more about Reconnections