News — Buddy Benches Help to Promote Mental Health Awareness at Local Schools
In May of this year, The Friary Guildford hosted an event to promote Mental Health Awareness Week to local shoppers. This year's theme was loneliness and to continue their support, the shopping centre has donated a 'Buddy Bench' to two local primary schools; Pewley Down School and St Nicolas' CE Infant School.
The Friary Guildford created the 'Buddy Bench' initiative to promote positive mental health and inclusivity in a unique and engaging way to help encourage young children to nurture friendships to avoid feeling alone when at school.
Vicky Hickson, Centre Manager of The Friary Guildford recently visited the staff and pupils at each school to present the Buddy Bench which was specially decorated in colours chosen by each school.
The Friary Guildford's Centre Manager, Vicky Hickson, said, "Loneliness can affect people of all ages and is especially difficult for young children to understand or deal with, therefore we felt it was so important to help tackle this sensitive issue by donating Buddy Benches to local schools. The school playground can be a lonely place for some children, especially if they haven't got a friend to play with or are feeling sad and need someone to talk to.
Vicky continued, "The idea is simple – if a child feels lonely or upset, they can go and sit on the Buddy Bench as a signal that they need a friend to play with or talk to and teachers can also use the Buddy Bench to approach a child to offer their support when required.
"We're delighted to work with these two local schools and are excited to hear how these Buddy Benches have helped the children to build strong friendships and make a positive impact on tackling loneliness in schools by promoting positive mental health awareness amongst local school children."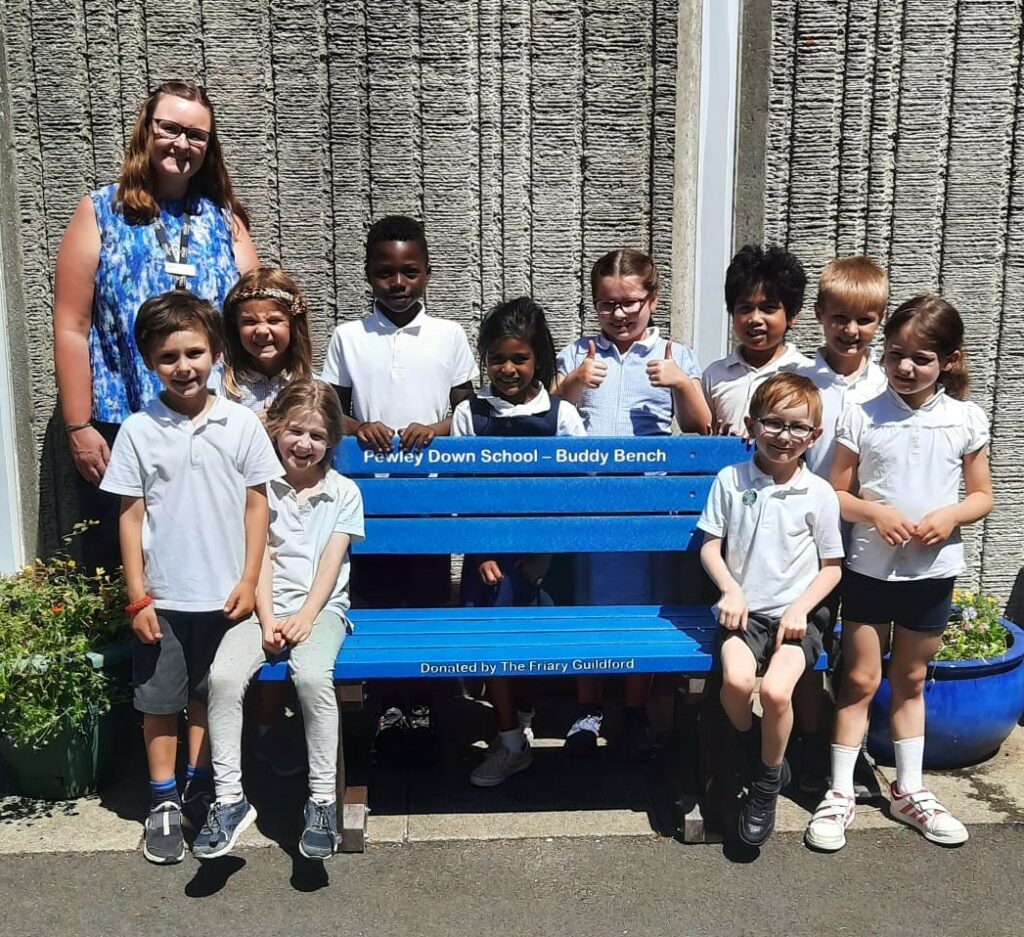 Head Teacher of Pewley Down School, Clare Brunet, said, "Having a Buddy Bench is such a great gift to the school. We're so grateful to The Friary Guildford for their generosity; being part of the wider community is really important to us and making connections across the town increases the supportive network that we belong to.
"Positive mental health from a young age is vital and understanding how to look after each other needs nurturing from the very first days in school.
"Our school values are focused on respect, kindness and empathy – and we hope that the Buddy Bench helps the children to remember to look out for one another and to extend a hand of friendship every day!"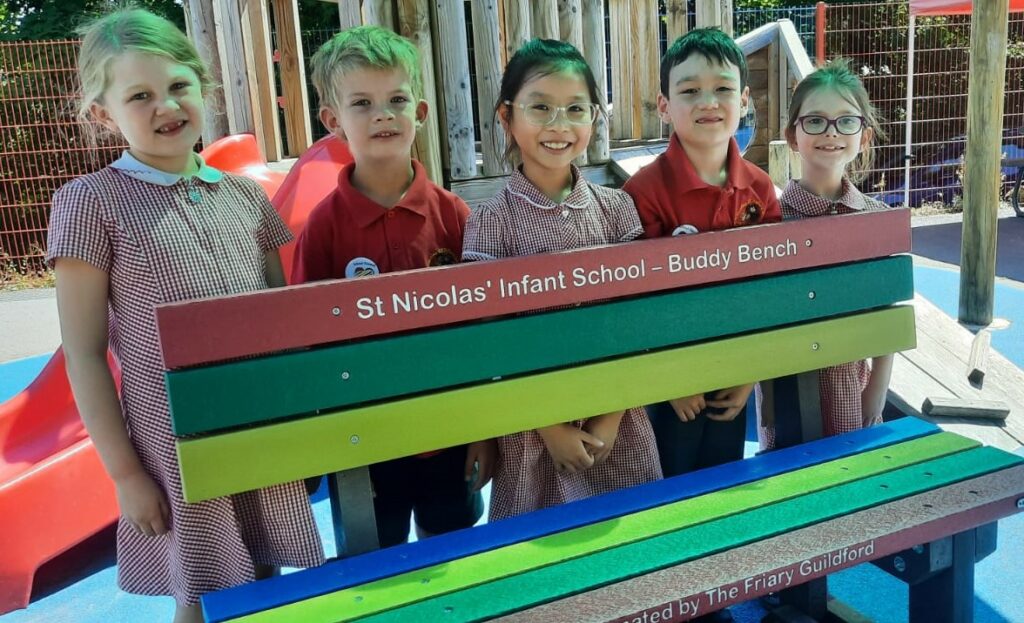 Head Teacher of St Nicolas' CE School, Emma Smart, said, "The mental health and emotional well-being of our children and staff is high on the school's agenda, and an area we focus in depth on. A Buddy bench in recognition of the theme of loneliness is an apt reminder that we can all feel lonely at certain points, and that there is help available if needed. This year our children discussed and reflected on the Wondering Thought of "Are you always lonely when you are alone?"
"We are thrilled to have been given such a beautiful bench, and one that mirrors our rainbow-coloured logo! It will be used in the playground for any children needing a Buddy, and as a Christian values-based school, I know they won't be sat there long! Our School Councilors are ambassadors and role models for the school values and always on hand to offer kindness and support to anyone needing a little extra TLC. A huge thank you to The Friary Shopping Centre for their generous donation and a great resource for encouraging kindness and compassion at St Nics' Infant School."