What's On — One Great Day
Take on the Smarties challenge and help raise funds for One Great Day!
Saturday 30th September 10am – 5pm
Get ready to take on the Smarties Challenge and make a big splash for the One Great Day charity! Whether you're a seasoned Smartie enthusiast or just dipping your toes into the fun, here's your game plan:
Pop along to The Friary on Saturday 30th September between 10am and 5pm to buy your Smarties tube – a suggested donation of £2.
Devour and enjoy all the Smarties in the tube, yum!
Or have even more fun baking some sweet treats using our Smartie recipes.
Keep the empty tube!
Ask family and friends to donate.
Fill your tube to the brim with £1 or 20p coins, right to the top!
Return your treasure-filled tube to The Friary Centre Management Office located on level 1 near HMV before 5pm on Sunday 29th October.
And guess what? One lucky person out of all those to return their filled tube will win a £100 gift card to spend at their favourite store here at The Friary.
Download our Smarties Challenge Entry Card HERE 
About Our Charities
But that's not all – we're on a mission to support two worthy causes, so find out more about why they need our help.
Every day, around 750 seriously ill children and young people are seen at Great Ormond Street Hospital from all over the UK. Every day, doctors and nurses battle some of the most complex illnesses and the brightest minds in research come together to achieve pioneering medical breakthroughs. GOSH has always depended on charitable support to give seriously ill patients the care and support they need.

Home-Start Guildford is part of one of the UK's leading family support charities Home-Start UK which has 180 schemes in the UK and over 16,000 volunteers who visit families with at least one child under five in their own homes.
Home-Start Guildford was established in 1997, and is based in Burpham, Guildford. The Manager leads a team of six staff (1 full-time and 5 part-time).  They run the scheme under the guidance of a board of volunteer trustees and advisers and supported by the national organisation – Home-Start UK.
They run two family Family Groups.  One operates at Pirbright Army Base on Tuesday mornings to support service families and the other is held at The Guildford Family Centre on Hazel Avenue, Bellfields on Thursday mornings. Both run during term time with some special events offered during the school holidays. The Pirbright Family Group has been running successfully since 2007 and the Hazel Avenue Group since April 2021.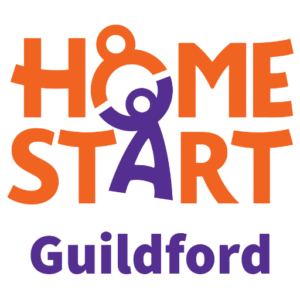 So, mark your calendars for Saturday 30th September between 11am and 5pm and find our friendly team on level 2 outside Flying Tiger.
Oh, and one last thing – make sure those jam-packed tubes find their way back to The Friary Centre Management Office before 5pm on Sunday 29th of October. Why? Because there's a sweet chance to score a £100 gift card for a store that's calling your name!
Want to Make a Donation Online to Support One Great Day
If you are unable to come along and join us for One Great Day on Saturday 30th September at The Friary Guildford but would still like to help raise funds for our two lovely charities. Then please simply scan the QR Code below to make a donation online.
CLICK HERE TO MAKE A DONATION TO SUPPORT ONE GREAT DAY
Fancy Cooking Up a Sweet Smartie Treat? 
Why not get creative in the kitchen and bake up some yummy Smartie sweet treats! Once you've had fun in the kitchen creating your cookies and cupcakes, you can then sell your creations to family and friends… It's a great way to fill your Smartie tube and help support some great charities.
Download our Smarties cupcake recipe HERE 
Download our Smarties cookie recipe HERE