News — World Water Day 2022
The Friary Guildford is raising awareness of #WorldWaterDay 2022.
During our #ShowTheLove campaign in February, we saw through the eyes of children the many ways in which they could show love for the planet. A year 2 student from Onslow Street Primary School captured the sentiment of this awareness campaign brilliantly…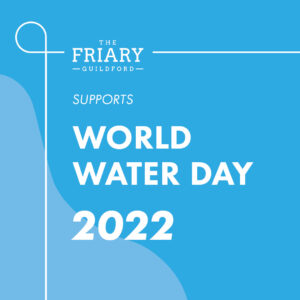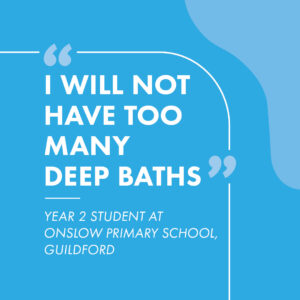 WHAT IS WORLD WATER DAY?
World Water Day is on 22nd March every year. It is an annual United Nations Observance, started in 1993, that celebrates water and raises awareness of the 2 billion people currently living without access to safe water. A core focus of World Water Day is to inspire action towards Sustainable Development Goal (SDG) 6: water and sanitation for all by 2030.

On the 22nd March 2022, World Water Day is raising awareness about the importance of groundwater and making this precious invisible resource… visible!
The impact of groundwater is visible everywhere. Out of sight, under our feet, groundwater is a hidden treasure that enriches our lives. In the driest parts of the world, it may be the only water people have.
Almost all of the liquid freshwater in the world is groundwater, supporting drinking water supplies, sanitation systems, farming, industry and ecosystems. In many places, human activities over-use and pollute groundwater. In other places, we simply do not know how much water is down there.
What can we do about groundwater?
Groundwater has always been critically important but not fully recognised. We must protect groundwater from pollution and use it sustainably, balancing the needs of people and the planet.
Groundwater's vital role in water and sanitation systems, agriculture, industry ecosystems and climate change adaption must be reflected in sustainable development policymaking.
What we do on the surface matters underground. We must only put harmless biodegradable products on the soil and use water as efficiently as possible.
To find out more about #WorldWaterDay, visit: https://www.worldwaterday.org/learn