News — How the Friary stores #ShowTheLove
There are some amazing things happening within our stores, to #ShowtheLove to the planet. We love the following sustainable initiatives…
Schuh
Want £5 off* new shoes? Of course you do!
Schuh's Sell Your Soles scheme is back (in an even safer way)! Bring down your old, worn shoes and they'll give you £5 off your brand new pair. All stores have been provided with trays that we ask that you place your worn shoes onto to reduce the risk for staff due to COVID-19. These will then be taken in the tray and tipped into the relevant carton within their stockroom without their shoe-selling stars touching them.
*T&Cs apply: Customers handing in a pair of unwanted shoes to any schuh store will receive a £5 voucher for each pair donated. Shoes do not have to be from schuh. Shoes will be recycled. Once unwanted shoes have been donated in store they cannot be returned. Vouchers can only be redeemed against full price items over £25 and cannot be combined or used in conjunction with any other offer or discount. Voucher valid in UK stores and online. Redeemed vouchers cannot be refunded and will be lost if purchased shoes are returned. Shoes being returned as faulty or unsuitable are not eligible for this promotion and our standard returns policy is not affected. schuh ltd reserves the right to amend or end this promotion at any time.
NEXT
As a responsible business, Next are working to create more sustainable ways of doing business whilst continuing to reduce their operational carbon footprint and help deliver better resource efficiency. 50% reduction achieved against absolute scope 1 & 2 carbon reduction target by 2030 and 97% diversion of waste from landfill achieved.
ZARA
Zara's 'Join Life' label shows shoppers that its products are sourced responsibly by classifying certain garments that are made of substantial materials and made through considerate production processes. As a result of the campaign, the Join Life label made its way onto 35% of the total product range. Zara has also been working to extend the life of its products through its social and environmental commitments. The company provides a clothing collection programme, of which the received garments are distributed to non-profit organisations that allow them to be reused or recycled. Zara want to reach net-zero emissions by 2040.
SUPERDRY
Have you seen Superdry's Vegan trainers? And did you know that all of their jackets use recycled fill?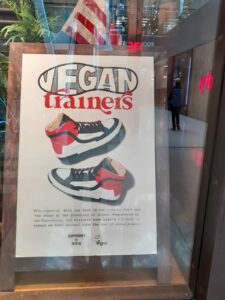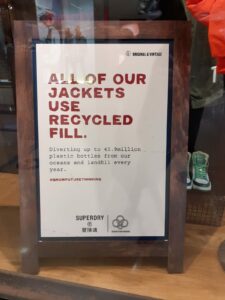 Superdry's goal is to become the most sustainable listed global fashion brand by 2030. 100% of packaging will be converted to recyclable, reusable or compostable alternatives by 2025. 65% of their cotton and non-cotton garments will be converted to organic, low impact or recyclable alternatives by 2025, with 100% of cotton moving to organic by 2030.
RIVER ISLAND
River Island has made 12 commitments for people and planet, aligned to the United Nations Sustainable Development Goals, that guide us towards a more ethical future. Their key targets are to:
Actively promote the recruitment of candidates from diverse social backgrounds.
Acquire full visibility up to tier 4 in their products' supply chain by 2023.
At least 50% of their garments sustainably attributed by 2023.
Adoption of an MRSL by Top 50 suppliers by 2023.
Reduce water use in their products' manufacturing process by 50% by 2030.
Zero waste to landfill from all UK operations by 2023.
Zero waste to landfill from their products' manufacturing process by 2025.
Eliminating all single use plastics from their UK operations by 2022.
Introduce products' end-of-life solution for customers by 2022.
Net-Zero carbon Emissions by the end of 2040.